Julia Alvarez on living in small town Vermont: "What holds us all together is unspoken, sturdy and as deep as the limestone and marble once quarried from our hills. A love and respect for the land—that's our abiding bond."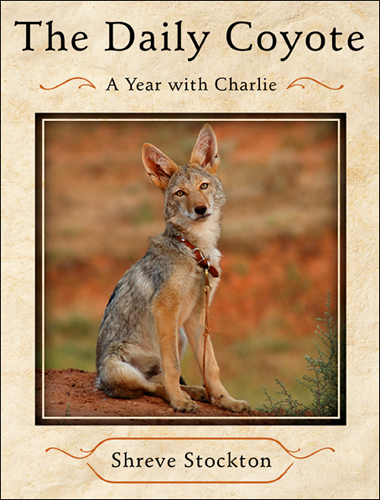 The Daily Coyote is a book! From the PW interview with author Shreve Stockton: "I'm not trying to promote [coyotes] as the new designer pet. I have been e-mailed by people who want a coyote, and my question is always—why would you want to do that to yourself? It's so much work!"
More about the book here (and I think this one has holiday gift for teen animal lovers written all over it). (And holy crap - there is a calendar!)
Holly Black's hidden library is to die for. Look and drool.
This article in The Christian Science Monitor about UN cuts for medical care for rape victims in the Congo is a heart breaker. The fact that they are based on the war there being officially over (even though it violently continues in an unofficial capacity) is particularly upsetting. Here's a bit of the piece:

As a senior surgeon at a hospital in war-torn eastern Congo, Denis Mukwege expected that his workload would ease when a peace treaty was signed earlier this year.
But while the war ended on paper, it continued on the ground. The combatants kept their weapons. They dug in, and took out their aggressions on local villagers.
Dr. Mukwege is a gynecologist. The majority of his patients are rape victims. And Congo, home of the world's bloodiest conflict since World War II, also has the globe's highest incidence of rape.
"It is always a joy when you treat someone and they get well, and you see them, for the first time, smile again," says Mukwege, resting after a long day of reconstructive surgery on rape victims at Panzi Hospital in Bukavu. "But then I start seeing women I treated in 2003, and I ask myself, why should I continue with this work?"
He sighs. "I can't be discouraged by the work if the problem will end. But if you can't see the end...."
Cory Doctorow enjoyed Alan's War, a graphic novel that I reviewed quite favorably in my upcoming column. Some of Cory's thoughts: "Emmanuel Guibert's graphic novel Alan's War: The Memories of G.I. Alan Cope is totally different from anything I've ever read. It's a picaresque memoir of a Californian soldier who was shipped to Europe during the last days of WWII, just in time to see the comic, banal, and wrenching scenes associated with the wind-down of hostilities."
Consider that one highly recommended, especially for those with an interest in history or thoughtful types eager to see beyond the headlines of the "greatest generation".


I just finished Simmone Howell's Everything Beautiful about teenager Riley who gets banished to a week of Christian camp after some particularly bad behavior. She meets up with some misfits and some meanies, makes some friends, gets emotionally crushed, finds some romance and rocks her own world and others. It's an odd book that started out disappointing me (the characters seemed to read initially as cliches) but picked up steam the further I read and turned out to be quite satisfying. My one complaint is that Riley is described as 182 pounds which is way bigger than the model depicted on the cover. (Who looks 140 - maybe. You be the judge.) If an author is going to craft a story around a plus size heroine and then make her weight a major part of the storyline (it actually gets stressed a bit overmuch at times) then the cover shouldn't shy away from that. I will review this one after the first of the year as as solid coming-of-age story for older teens (there's some sex) but I wish someone could tell me why Howell wrote about Riley one way while Bloomsbury saw fit to portray her as another.

And finally here is a picture that impressed the hell out of me. When was the last time kids looked at a presidential candidate like he was a rock star? They're beautiful aren't they? Beautiful and ready to change the world. (AP Photo/Alex Brandon)
P.S. Thanks to all the writers and bloggers who chimed in on my post about rejection. I did talk to my agent and she is going to send the manuscript out to a second round of editors (while still waiting to hear from others who have had it this month). She doesn't want to change anything now - not that it won't need to change maybe later, but for now she wants to get some more opinions. Michele says publishing is just slow right now and this will take some time. But she still believes in the book and in me, so I'm hanging in there and working on revisions to book #2.