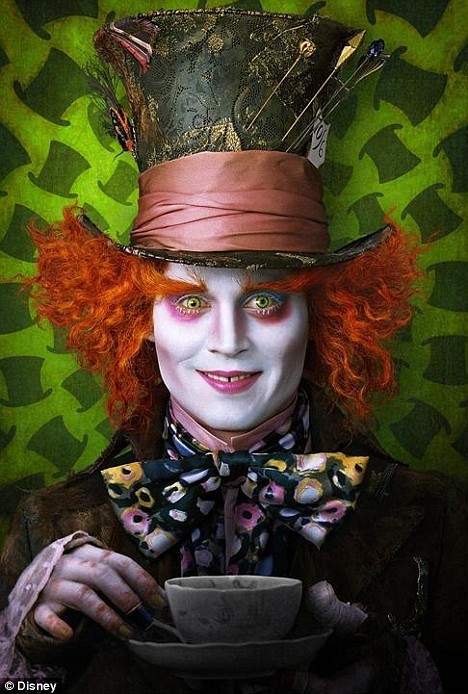 That would be Johnny Depp as the Mad Hatter in Tim Burton's adaption of Alice of Wonderland. Gotta love his willingness to get totally into a part, don't you? Check out more pics here. (Craziest Red Queen ever I think!)
For those of you who might have missed it, Jessa is off to Berlin and Michael Schaub is back filling in for her at Bookslut. One of his funnier blogging moments last week:
Since I've been AWOL from the blog for a long time, I've missed a lot of the literary controversies that have been popping up, including this Derek Walcott-Ruth Padel Oxford contretemps. If I understand it correctly, Walcott was passed over for a professorship after a group of second-wave book bloggers sexually harassed his 14-year-old daughter, Willow, with a Kindle. Is that...is that right?
In any case, an anonymous (of course) author has now written a poem, "Smear," about the whole thing. I'm guessing the anonymous poet turns out to be "Eric Dalcott" or something like that.
Jen Howard is also blogging each day. Just go read - they're as funny as you can be while covering the lit world.
I don't usually get all political around here (except for things like Iran because that is epic) but this bit about a Missouri state legislator who sent out a newsletter decrying the fact that government was continuing the free lunch program for school age kids over the summer is a real humdinger. It's the bit where she says the teens in particular don't need free lunch and should get a job (money quote "Hunger can be a positive motivator") that really blows my mind. Don't you have to at least be smart enough to know not to put this stuff in writing before you can get elected? The St Louis Post Dispatch was not amused, probably because one in five of Missouri kids live in hunger.
Ray Bradbury is fighting for Ventura's libraries. If you've read his essays you will know how much he credits the public library with forming his literary career. It's nice to see him still doing what he can at his age and with poor health. A bit:
He can still be found regularly at the Los Angeles Public Library branch in Koreatown, which he visited often as a teenager.
"The children ask me, 'How can I live forever, too?' " he said. "I tell them do what you love and love what you do. That's the story on my life."
He also seems to have a crush on Bo Derek. Too funny.
Someone is going to have to explain this whole Lauren Conrad thing to me because it just doesn't make any sense. It's clear she had a ghostwriter for her book (she pretty much says so in the acknowledgments) but the fact that she has no personality is what makes her memorable? Vapidity is the new creativity? I so see a future What a Girl Wants question on this....

Anne Frank lives on in Iran. Too true.
Jenny Diski got fired from editing a short story collection by student writers for being too honest. (via Jenny D. who just did a big light reading round-up.)
Lauren Miller looks at other urban fantasy that Buffy fans might enjoy but I have to say that while some of these series are certainly fun (although I agree Anita Blake has totally jumped the shark), I think Miller is missing the fact that it wasn't just the vamp/fantasy appeal of Buffy that we loved but the Scoobys. Nothing else has managed to pull together that same friendship dynamic that Joss Whedon did so well and that - combined with the fantasy/horror and the mystery elements and the "see girl kick butt" and the romance is what made it all work. In other words, if you're a Buffy fan don't expect to fall hard in the same way for anything else because you're not going to find Willow, Xander, Giles, Angel, Tara, Oz or even Cordelia out there as well.
Caught by the River sounds lovely (and includes Roger Deakin!)
Finally, Doret takes Rick Riordan to task for a death in the final Percy Jackson book and I have to say this one really gave me pause. The issue of how people of different races/nationality/religion/etc. read a book is one that is revisited a lot on the blogs because we are such an eclectic reading group but I don't think anyone else has caught what Doret saw in this particular instance (something she addresses in her post). Also read the comments as she is quick to point out this is not a pattern at work for Riordan but still troubling. It reminds me of all those action movies where there are four white characters and one black - and everybody knows who is going to die in a bid to save the rest of them. (And we also know who's going to rescue who and result in some sort of wholly inappropriately timed romantic moment but that's a whole other discussion.)
Sigh. The world changes so much everyday, but sometimes still it just changes so damn slow.