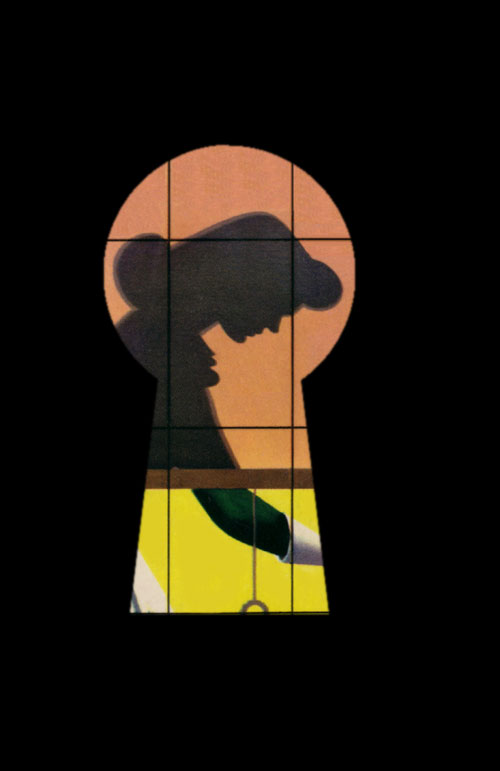 Shortly after President Obama nominated Judge Sonia Sotomayor to the Supreme Court we learned that she was a fan of Nancy Drew as a child. An enterprising reporter at the NYT picked up on this and went looking back to see if Judges Ginsberg and O'Connor might have shared her girl detective love and found indeed, that the three women did have Nancy in common. Here's a bit from the resulting article:
"The real allure of Nancy Drew is that, almost uniquely among classic or modern heroines, she can follow — is allowed to follow — a train of thought," wrote Sandra Tsing Loh, reviewing Melanie Rehak's "Girl Sleuth," a biography of Nancy Drew's creators, in The Atlantic. "The plot opens ever outward for her, her speeding blue convertible a metaphor for the sure-shot arrow of her intellect, the splendidly whizzing shaft of the maiden huntress Diana."
"For clever girls of all ages," Ms. Loh wrote, "it's a rare treat to read stories in which our heroine's emotions come alive not with the love of a good man but with the pursuit of a bad one."
While I certainly read more than my share of Nancy Drew mysteries when I was young I also enjoyed Judy Bolton, Trixie Belden (which Sarah is lately recapping) and The Three Investigators (who sadly all were boys but had the coolest headquarters ever), and thus didn't want to make this week's discussion Nancy-specific. In truth, she is not nearly as popular these days as she once was although there is a solid group of middle grade mystery solvers like Enola Holmes, Gilda Joyce and Kiki Strike & crew who are following in her footsteps. It is only as you age past the MG region that the girl detective falls off the face of the earth - only to return again in literally hundreds of adult mysteries. So, the question put forth this go-round is does the girl detective genre matter to teen readers today? Do we need her around and if so, what does she bring to the table? Are we missing out on a chance of future female justices by not having mysteries with teen girl protagonists? In a nutshell, should we care at all about the girl detective?


Lorie Ann Grover. I, too, was a Nancy Drew fiend, Colleen. I loved her intelligence, independence, and success. The Spider Sapphire Mystery was one of my most treasured possessions. Yes, there are middle grade detective mysteries popping up now. Michael D. Beil's The Red Blazer Girls: The Ring of Rocamadour launched in April to a Booklist starred review. But you are right. That's middle grade. However, here's a YA detective heroine: Kirsten Miller's Kiki Strike. She's amazing. There's one. Yay! It's interesting to note that she is younger when the series begins, and the series has fantastic elements that raise it above realism. Hm.
I see two scenarios. The first could be that our teens today generally won't pause to believe in the possibility of a teen detective. Is the concept too far-fetched? There may not be a tolerance for the fictional character, or is there?
The second possibility is that authors will be bringing mysteries to the table soon. Right now, we see a resurgence of sci-fi, after a gothic/horror fantasy trend. In the natural cycle, maybe authors are beginning to tap into their mysterious stories with girl detectives in one form or another, and we'll see the works hit the shelves in a couple years. Kiki will be waiting.
I've just thought of a third option. Maybe there are girl detectives in YA lit, but they take non-traditional forms. Aren't most strong female protagonists searching for answers in a mystery? Whether they be sleuthing like Nancy Drew or wandering through adolescence searching for their identity like Georgia Nicolson. Whichever, let's hope they inspire readers to take the wheel of their own blue convertibles.


Kekla Magoon. The "girl detective" does play an important role for girl readers. I loved Nancy Drew as a teen myself. (Full disclosure: I read many more of "The Nancy Drew Files" paperbacks than the yellow-spined classics.) I had stacks of them. They fell among my standard "feel good" stories, because they filled a void. Much of the fiction I was reading in those days included genre romance, books about people with terminal illnesses, tween series fiction about friendship, and your typical angsty YA. All of which I enjoyed, but was also difficult for me.

I could have loved Nancy simply as a strong female character, but beyond that, I identified with her easily in a way that I struggled to identify with characters in other books. I was inexperienced and clueless about dating; romance was close to a myth in my mind. No one I knew was dying dramatically. I was shy and bookish, so could only barely relate to corny friendship dramas, etc. With Nancy, none of that mattered. Her books did not make me feel inferior. Because I was confident of my cleverness, if nothing else, Nancy made me feel like I could play the game. I was jealous of her autonomy, excited by the dangers she overcame, and above all, relieved that I didn't have to try to glean social understanding from her life. Yeah, she had a boyfriend, and yeah, she had best friends, but that wasn't her thing. Her butt-kicking, name-taking attitude was a delicious fantasy that I could never touch, but also strangely seemed not so far out of reach.

I do wonder if the term "girl detective" is limiting, though. What I love about Nancy is more than her ability to solve crimes. We're talking about girl characters whose power comes from brains rather than beauty, from individuality rather than a peer group, from resourcefulness and independence rather than the ability to attract (usually) a man? These traits also spell the appeal of the girl warrior (Katniss in The Hunger Games) and the smart, problem-solving girl (Hermione in Harry Potter). We still see such characters popping up in YA lit -- girls who do not need to be saved, but often times do the saving. We need them, and they exist. But maybe they're too often relegated to the realm of fantasy -- is the problem that we need more reality-based stories in which girls act this way?


Beth Kephart. One of the most bold and (to my mind) endearing female protagonists brought to us in recent times is Liesel Memimger of Marcus Zusak's The Book Thief. Liesel has been robbed—-of her brother, of life as she knew it, of life as it should be—-and she robs back. She asserts her own judgment, declares and lives by her idea of right and wrong. She analyzes, she solves problems,and she waits for no one to rescue her. She also believes that she can and must rescue others.
A character does not have to be solving a classic mystery, in other words, to be all the things that I love in teen heroines. When I sat down to write Nothing but Ghosts, for example (and please forgive any hint of self-promotion, for I am merely reflecting on what went through my mind as I worked), I wanted, most of all, to write of a young woman who finds a way to live past the loss of her mother. I wanted her to be deeply reflective and smart, willing to name her fears and to work through them. The idea of her having a mystery to solve came along rather late in my process. Katie, my protagonist, already had the traits that would be required for such a task; the plot became far more interesting (to write) as she worked through a story that lay beyond herself. Because Katie, in Nothing but Ghosts, is reflecting on another's story at the same time that she is processing her own, she acquired another trait that I seek in teen heroines (and in all people)--a broader world view and earned empathy.


Sara Ryan. "Why aren't we friends any more?" "When did everyone else stop wearing this brand of jeans, and why didn't anyone tell me?" "Are anyone else's parents like mine?" "He asked what I got for question five, does that mean he likes me?" "I'm tongue-tied and I can't stop looking, does that mean I like her?" Girls, or at least the sort of girl I was in junior high, are trying to simultaneously construct their own identities and decode everyone else's around them. They are endlessly engaged in largely futile attempts to solve the mysteries of their own lives. Enter the girl detective, focusing her analytical skills on deducing who stole the jewels, rather than on why the necklace she got from The Limited failed to bestow popularity. Though honestly, I read and loved girl detective books well before my teens. By junior high, I was much more a fan of Agatha Christie. By then, I didn't require my detectives to be girls, but I needed them to tie up all loose ends by the last page. I did not want ambiguity. I wanted resolution. I liked thinking that there was an answer to be found and that the detective was capable of finding it.
What do we lose when we lose the girl detective? Most importantly, we lose that sense of a girl using her intelligence to solve problems outside the realms of romance, family, and her place in the social hierarchy.
But I think the place of the girl detective may be taken by the girl spy. Exchange detection for espionage, and your clear (and reductionist) solutions and straightforward good versus evil framework are replaced by a world of ever-shifting motives and allegiances, with the constant possibility that you're being double-crossed. It's a less immediately comforting narrative frame, but a girl spy can have some of the same admirable characteristics as a girl detective: intellect, action, independence. And perhaps the moral greyness of spying more accurately reflects our times -- not to mention junior high and high school.


Melissa Wyatt. I'm not sure this is a gender issue so much as it is a genre issue. If you think about it, there are no successors to Frank and Joe Hardy, either. YA mystery in general is a sparse field. Look how far the Edgar Awards have to cast their net for nominees for their YA award. Is it because of lack of interest from those writing for teens or lack of interest on the part of teens themselves?
The YA novel we know today didn't exist in Nancy Drew's heyday, so that smart, savvy teen girl protagonist who can save herself has a broader field to play in than she did back then and doesn't have to be confined to mysteries. (Not to say there are enough teen girl main characters like that.) Or maybe there is something about that intellectual exercise of the traditional mystery that isn't as appealing at that stage of your life.
Famous literary detective Lord Peter Wimsey explains to his mystery-writing wife that the detective novel "contains a dream of justice. They project a vision of the world in which wrongs are righted, and villains are betrayed by clues they did not know they were leaving." They keep alive a vision of the world that ought to be true and feed a hunger for justice.
The MG-aged reader still believes in a straight-forward black-and-white form of justice. For the adult reader, they understand the complexity of real life but still hope justice will win out in the end. and still carry that hunger for justice. But maybe it's too much to ask of the YA reader, who is suddenly surrounded by injustices of a more immediate nature than distant crime, that can't be righted by the same means. Maybe it's just not the right time for that kind of intellectual escape.
That's a lot of "maybes" to say "I don't really know!" But it is fascinating to note that gap.


Zetta Elliott. I have to admit that I don't remember any of the Nancy Drew books I read as a girl. I think I only read them because my best friend was a huge fan, and I'm glad to know that the racist content is gone from memory, too. I don't feel the lack of girl detectives really impacts young readers since so many other genres can incorporate problem solving and conflict resolution. When I think of the teen girls I used to teach here in Brooklyn, they were a fairly cynical bunch; if a mystery was set in the city, with characters they recognized from their own peer group/community, then maybe they'd be interested. Mostly what they were looking for was realism, and that's what I try to provide in my writing. I also think that solving crimes may or may not appeal to a group of readers who already have a complicated relationship with and/or distrust of the criminal justice system. It might be interesting to see a group of urban teens responding to the failure of cops to keep their neighborhood safe, but realistically that would involve a level of (potential) violence that makes me uncomfortable. I favor dramatic writing, with an emphasis on *dialogue* because that presents a model for negotiation that we often don't see on TV or in film (where it's shoot first, ask questions later). As much as I love the Jason Bourne films, I wouldn't want to see a woman in that role; even watching Buffy was hard for me at times, because the (staged) violence was intense, and much more than an ordinary teen could handle (I believe in self-defense training for girls, but worry about the "tough chicks kick a**" image). I'd like to see more books where teenage girls learn not only to count on their rational, thinking, feeling selves, but to find allies who'll have their back—and building alliances once again comes down to honest, open communication. Enough with the mean girls already.


Laurel Snyder. It's funny. My initial response to this question was to say, "Well, I was never really into these books as a kid anyway." But then I realized that's not true. I totally read Nancy Drew, and I loved Agatha Christie, and (though I wouldn't call Miss Marple a role model) I absolutely wanted to be Tuppence! I don't remember them as important books precisely because they were bedrock. There were scads of them around the house, and in racks at the library, and I read them all, and digested them as a kind of fluff. They weren't my favorites, they were just there. And they did inform my late-night activities, sneaking around with flashlights in bushes, "investigating" new places (beach houses, especially) for clues, establishing hideouts, etc...
So I think, now that I consider it, I think that the "girl detective" was something I understood, even in the 1970s, to be a caricature, a little ridiculous-- fodder for games and fantasy. I saw them the way I saw Dazzler, or Shadowcat. They weren't real to me, and they were already outdated, but they were ever present. So I wonder if the rise of fantasy is somehow related to the death of the girl detective. Like, all the girl detectives (or any girls with spunk) are now urban faeries. Or too busy battling demons and demigods to bother with old clocks.
In any case, for me, the thought of losing the girl detective is sad, not just because she saved herself, but because she was unabashedly nosy and kind of pushy, and that was a good thing! I think girls need to learn to be nosy and pushy.


Mayra Lazara Dole. The girl detective genre was released when females were second class citizens. Although it's currently passé for the literati, I think poor, working-class girls need kick-ass girl detective stories so they can see themselves with zero limitations. These girls are always left behind, have a great fear of failure, and are encouraged to become hairstylists, manicurists, childcare workers, secretaries and maids by parents and teachers.
Girls who read Nancy Drew asserted their intelligence and autonomy and passed it on to their girls. They attended university--and so do their children--and yield the exact same amount of power as men (they know they can use their brain, not their body, to get where they want to go). Today, there's plenty of detective girl lit and films with brave girls wielding swords that embolden educated girls who can afford books and movies, to become even stronger, more independent. Hermione of Harry Potter is a fabulous detective role model. However, in my perspective, it's the poor girls from uneducated families who desperately need girl sleuth stories. Mothers who don't read have low expectations of themselves and their daughters. Moms who read will tell their girls, "You can be anything," not, "You can become a cleaning lady like me and work for a wealthy family." Female detective stories encourage girls to pursue non-gender-appropriate work.
Rachel Simmons, author of Odd Girl Out, interviewed girls about how they perceive an "ideal girl" as opposed to an "anti girl." "Ideal girls" are fake, dependent and manipulative. The "anti-girl" is seen as brainy, opinionated, strong, independent and bookish. I strongly feel we need Latina and black working-class girl detective heroines that will motivate barrio, ghetto, and poor white kids to read so they can empower themselves and rise above. I'm off to write my first girl detective story! Thanks Colleen, for the motivation!


Margo Rabb. I love everything about girl detectives--and I've always secretly longed to be one--which is partly why, years ago, I wrote a girl detective series about two Jewish sisters from Queens who run away and solve mysteries. I'd like to write another girl detective series someday, too...I think that one of the best things about the genre is that romantic subplots are just that--secondary subplots--and the main plots always highlight the heroine's strength, power, intelligence, and ingenuity.
One aspect of the girl detective archetype that I'm fascinated by is the missing mother--in Nancy Drew, the mother isn't often discussed, but her absence lends Nancy an even greater sense of independence, freedom, and power. Girl detectives have to draw strength from themselves; they have to be their own mothers.
Genres always seem to be going in and out of vogue in publishing--right now vampires and werewolves are popular; detectives are not. I'm sure the pendulum will swing back towards the girl detective again, down the road. In the meantime I'll keep writing in my Nancy Drew journal and watching my Veronica Mars DVDs.


Jenny Davidson. I read Nancy Drew compulsively when I was really pretty much just a little kid (age 5, maybe?), and moved on to adult detective fiction without a lot of delay! Agatha Christie first, because her books are somewhat simple-minded; and Dick Francis and Josephine Tey and Margery Allingham and Ngaio Marsh and Dorothy L. Sayers. As a teenager, I read all sorts of adult crime fiction, and I suppose that in most of the books I identified much more strongly with the male detective than with anyone female on offer. With one major exception: Sara Paretsky...
I guess I don't have a great sense of what's currently out there for teens explicitly - I trust your account of it, and I certainly had a conversation with a children's book editor last year in which she bemoaned the lack of middle-grade mysteries with real plot and suspense and urged me to write one! - but I think that there was in the 70s and 80s and continues to be a lot of great crime fiction that is suitable even for younger teenagers to read. Some parents will prefer their teens to avoid - some TEENS will prefer to avoid! - the serial-killer range of stuff, but I wonder whether in this case it really is necessary to have separate books being published when there are so many great subdivisions within the crime genre already. I can think of a lot of private-investigator-type crime fiction, for instance, that I'd recommend to an eager teenage girl reader (Sue Grafton's books would be an obvious place to start, or Liza Cody's, which are more favorites of mine); not so much police procedurals as the kind of book where a youngish woman asks questions and finds things out...
A lot of supernatural teen stuff is kind of built on a crime chassis (Buffy?), and the mystery-solving plot with a good question-asking female protagonist doesn't ever lose its appeal. I do think that some of the great odd girl-detective books of my childhood would bear republicizing - what about Ellen Raskin, not just The Westing Game but also The Tattooed Potato and Other Clues? And the detective protagonists of E. L. Konigsburg's Father's Arcane Daughter and From the Mixed-Up Files of Mrs. Basil E. Frankweiler. And, of course, Harriet the Spy. I hope I have not revealed myself as impossibly nostalgic by rehearsing these so-familiar names - they really are great books...


Loree Griffin Burns. I adored Nancy as a kid. It wasn't the mysteries so much as the undeniable fact that she was different. She wasn't interested in the sorts of things that most teenaged girls were interested in: boys and how to attract them. No, Nancy was more interested in uncovering the truth, most especially when there were people trying to hide it. Looking back, Nancy's appeal for me is all wrapped up in this idea that she was different, that she knew it, and that she didn't worry about it. Because I was different, and I knew it … and I worried about it endlessly.
I guess what I am saying is that I don't think today's girls need a girl detective so much as they need a girl—any girl—who is strong and capable (e.g. different!) and who gets on with life anyway. And there are female protagonists who fit this bill—many of them mentioned above; they just don't happen to be detectives.
As a writer whose passion is science and nature, I'd be remiss if I didn't at least point out that one incarnation of the girl detective in our age is the female scientist. And although there are lots of nonfiction books available for teen girls about women who grew up to be scientists, I can't think of many contemporary novels with scientifically-bent heroines: Meg Murry (A WRINKLE IN TIME), Dewey Kerrigan (THE GREEN GLASS SEA), Hermione Granger (HARRY POTTER series) … who else?
[Top pic via girldetective.net]