And now the final list of Alternate History & Steampunk links for folks looking for some bookish adventure of a decidedly inventive kind this holiday season. Go forth and enjoy some truly excellent reads - you won't be disappointed! (For an explanation of all this fabulousness, scroll down (behind the cut) to the end of the this entry.)
****Charlotte offers up six steampunk recommendations for kids at Charlotte's Library. It includes this one that I totally missed: "The Toymaker, by Jeremy de Quidt (David Fickling, 368 pages). There is no steam involved in this story, but the clockwork creatures are the utterly scariest ones I have encountered to date. From my review--"...the titular toymaker makes automatons come to life by wiring their clockwork to living hearts. Sparrow hearts, to start with...they're easy to come by." Part exciting adventure, part horror story, it's thought provoking and beautifully written...and deeply disturbing."
****The divine Sara Ryan interviews Jenny Davidson on alt history, manners, writing habits and frosting: "My thoughts and understanding of the world are so thoroughly shaped by 'real' history that it would be a mind-bending experiment indeed to see how far I could depart from the universe we know – in a science-fictional sense, one is tempted to change the actual underlying rules of how things operate in the world!"
****Leila rereads THE EXPLOSIONIST at Bookshelves of Doom: "So, although it's got bombings and murder and ghosts, it's not, by any means, a fast-paced zoomfest of a read. It's a book that will be highly appreciated by fans of Ellen Klages' The Green Glass Sea: On the surface, it seems like a strange pairing -- Sophie and Dewey don't share the same age, country or even the same world -- but the books are similar in tone, attention to detail, realistic dialogue, thoughtfulness and affection."
****Tanita considers depictions of race in alt hist/steampunk titles in a particularly interesting post at Finding Wonderland: "There must be more, but the fact remains that there's a dearth -- a big dearth -- in stories and images of people of color in this Big New Thing. And it's not a huge issue, on one hand, since steampunk and alternate history is fairly accessible -- but if we're twisting history around, can't we include everyone in our brave new world, without having them have to put on the trappings of a Victorian world which doesn't maybe fit them?"
****And T also had a few links to past posts at Finding Wonderland that apply to this week's subject as well.
****Where I ask for an alt history title starring Benedict Arnold: "In essence, we likely would not have won the war without Benedict Arnold and we very nearly lost it because of him."
****Steampunk dress-up over at Finding Wonderland: "If I were a gadzillionaire, and had the means to persuade otherwise busy people to do my bidding, do you know who I'd get to design ALL of my clothes? D.M. Cornish."
****Tor has some steampunk gift recs for the aficionado on your list. (Couldn't resist this one and it is partly bookish!): "Goggles!–the quintessential steampunk accessory for any aeronaut, coal miner, mad scientist, or brakeman on your list. Now while goggles may seem like an obvious choice, be mindful that they come in many different shapes and sizes. It's the options will make this accessory pop!"
****Where I make some alt history/steampunk recommendations. No hints - you'll just have to go and read the wonderfulness. (And feel free to share some of yours with me.)
****Vote for the Steampunk Book of the Year over at Steampunk.com (of course). Scott Westerfield & Cherie Priest fans should take special note.
****Tanita considers modern day Edinburgh while searching for Sophie, heroine of THE EXPLOSIONIST & INVISIBLE THINGS at Finding Wonderland: "Sophie's Edinburgh was a place of learning -- science and technology with a sprinkling of spiritualism and séances. Sophie's favorite teacher, Mr. Peterson, would have loved to interest her in the Calton Hill Observatory, for a little star-watching. She would have gone past the old burial ground, but there would be no Martyr's Monument, because I kind of doubt that Napoleon would have allowed the names of those who fought against him to be remembered -- at all. Ever."
****Over at It's Dark in the Dark we are reminded that we must consider Philip Pullman in all things steampunk/alt history and also provides some other recs (and disappointments). Here is Dark on Pullman - which made me laugh: "This series gets a little weird in the last book. And when I say weird, you know that it means weird, and usually when I say "weird", I mean AWESOME. They stand out as some of the most memorable books I've read over the past few years. They have it all: Intricate clockwork technology, dirigibles, talking polar bears, deranged adults, you name it!"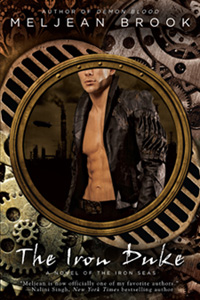 ****A conversation with three - count 'em three - ladies of steampunk over at Writing & Ruminating. From Tiffany Trent we have this bit: "In tandem with all that was going on in the Industrial Revolution, the Victorian naturalists were revolutionizing our understanding of the world around us. They were also collecting things to the point of extinction. (Meet the world's first hoarders, everyone!) I'm utterly fascinated by the Victorian approach to nature and the things they tended to ignore (racism, classism, etc., etc.) while hunting down beetles in South America. Of course, the awesome clothes and the spirit of invention don't exactly drive me away, though."
****THE IRON DUKE reviewed by me at Chasing Ray: "...Brook has accomplished something rather remarkable here. She has written a romance that is such a great steampunk story that it will appeal to steampunk fans in spite of the love story. That hardly ever happens - usually romance is a closed book to everyone but the romance readers but THE IRON DUKE has so much more going for it - such an excellent plot that is all about a London that was defeated by the "Horde" (hello Genghis Kahn & crew) and then spent generations being implanted with controlling nanotechs which enslaved them to their Horde overlords until they were rescued by - ta dah - the Iron Duke (otherwise known as a guy who had nothing to lose and took out a major Horde fortress and won the battle which led to an uprising and the winning of a war and I can tell you all this because it happens before the book even begins)."

****Doret reviews INVISIBLE THINGS over at The Happy Nappy Bookseller: "Though I don't have a brain for science, I was still fascinated by the various scientific conversations. And the what ifs that could've changed the outcome of WWII. When I found myself lingering on passage, I couldn't help but think of how much crossover appeal this book has for adult readers."
****Ysabeau Wilce chatted over at Black Gate last month about all things Flora Segunda - including the fact that the third (and final) book in the series is due out next year. And she's shares this bit about Flora which explains alot about why the books are so great: "But I also wanted to write about a girl whose problems do not stem from being a girl. If Flora is stymied in any of her ambitions these obstacles have nothing to do with her gender. I wanted to write about a world where gender did not determine destiny."
****I somehow missed Arthur Slade's THE HUNCHBACK ASSIGNMENTS but the folks at Steampunk.com have kindly provided an overview and some review links. Quill & Quire gave it a starred review and a couple of months ago Slade guest posted at Cynsations to talk about writing steampunk. (And to celebrate the release of the second book. Why didn't I know about these books?)
****Little Willow links to all several entries on alt history titles and steampunk for your reading pleasure including one on Scott Westerfield's LEVIATHAN: "Earlier this year, we featured the novel Leviathan by Scott Westerfeld at readergirlz. This book re-imagines the events leading up to and taking place during The Great War, which was later known as World War I. The novel follows the lives of two young people, both of whom must fight for their lives and their countries: Aleksander Ferdinand, the prince of the Austro-Hungarian Empire, and Deryn Sharp, a girl posing as a boy in order to join the British Air Service."
****Finding Wonderland reviews INVISIBLE THINGS and BONESHAKER: "The story presents readers with an alternate pre-World-War-II, one with a very different set of political alliances but some of the same motivations of aggression, greed and desire for control. It's an intriguing setting that blends the developing nuclear technologies of the time period with neo-Victorian spiritualism, and poses a number of interesting what-if questions about the history and the scientific politics of the era."
****Betsy looked at THE CLOCKWORK THREE over the weekend: "Dividing his narrative between three different characters, the book has more action, adventure, heart, music, good food, natural beauty, and strange underworld dealings than you could ever hope to find. From proto-robots to golems and séances, it also manages to be packed with exciting elements without ever feeling overdone."
****Liz is talking about Alt History at A Chair, A Fireplace & A Tea Cozy: "Take history — take a known — and tweak it. Tweak it a little, or tweak it a lot. The story can be about that change or the backdrop for a story, where the "what if" is less about the Changed World Event and more how that Changed World Event changed the world, people, culture and their points of view. It can also be great fun for the person who is familiar with the history, to see the almost Easter Egg references to famous people, places and things that are now just a wee bit different."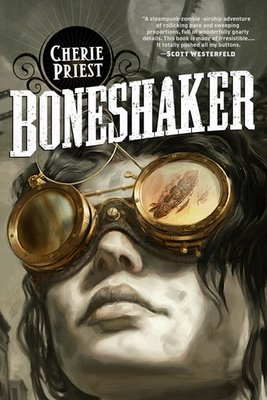 ****Don't forget Leila is running a cover contest to make some Alt Hist titles more appealing to teen readers over at Bookshelves of Doom with I See a Cover and Want it Painted Black: "The contest was actually Josh's idea. If he doesn't like cover art, he generally won't pick up the book. (Seriously. I know he would dig The Explosionist, but IT LOOKS TOO GENERIC AND GIRLY, even though I've explained that the cover art doesn't even remotely reflect the story. Same goes for Flora Segunda, except in that case, it apparently looks TOO YOUNG AND NEW AGE-Y FLOATY FANTASY. (His words. Sigh.)) On the rare occasions that his desire for the book supersedes his stubbornness, he SPRAYPAINTS THE COVER BLACK."
****An overview of the SLJ article "Steampunk: Full Steam Ahead" at Writing and Ruminating: "This sort of fiction dates back to early speculative fiction writers, including H.G. Wells and Jules Verne, and classic hallmarks include a sort of dark, Victorian aesthetic. Some of today's writers adhere to all those markers, including a setting in a Victorian or Edwardian England, but others tend to range farther afield both geographically and topically."
Ladies and Gentlemen, welcome to a celebration of two of my all time favorite literary genres: steampunk and alternate history! As usually happens around these parts, this multi-blog focus grew out of a discussion on books we love that seem woefully under appreciated by the masses. It's particularly odd to me that while steampunk and alt history are quite popular among adult readers, they seem to languish when directed at teens. Some of it seems to be massively poor cover decisions (epically poor in fact), others seem to be victims of a marketing model more focused on all things vampire and incapable of considering a gear-infused world where, say, California doesn't look like it used to and the Aztecs still have some serious power. (Yes, it's all about books and magic and war and adventure but put a fairy tale cover on it and it shall languish as both misunderstood and mistaken by the masses of fourteen-year olds who will nevertheless flock to Cherie Priest's BONESHAKER.) (As well they should but this is not an either/or supposition - you can read and love both. Please do.)
Soooo. On the chance that you have long hoped to read some alt history and/or steampunk but didn't know where to begin, let me invite you to a week of wonderfulness. There will be reviews, interviews, observations and considerations. This is a wide open celebration so if you want to join in, feel free to send me an email with the url and I will add you to this link schedule. Check back daily to pithy quotes from what's new and learn about some fabulous books you might have missed.
[Post pic (l-r) Deacon Boondini, the Great Gatsby and Giovanni James of the James Gang, a neovaudevillean performance troupe, as photographed by Robert Wright for The New York Times, May, 2008.]