This is the cover illustration of my [very tattered] copy of Fire and Hemlock by Diana Wynne Jones. I have had my copy for fifteen years, since I purchased it used at Gulliver's Books, my then place of employment, in Fairbanks. (Gulliver's is still open and still the farthest north independent bookstore in the US.)
Fire and Hemlock is one of my favorite books of all time and I was thrilled when I learned that it would be reissued this month along with two other DWJ classics. (In celebration of their return, I reviewed F&H in my current column at Bookslut.) As much as I am happy that a whole new generation of readers will be discovering these shiny new editions however (with intros including one by Garth Nix for F&H), my excitement about Fire and Hemlock is much more personal. Once upon a time I decided to take a chance and be brave about the rest of my life. Fire and Hemlock is the book I read just at that moment and DWJ is the author who made me believe - when I really needed to - that being brave was the right thing to do.
I found my copy of the book when I was shelving a ton of recently arrived paperbacks in the used book section. The cover is, well, it's pretty striking, right? It was the description on the back though that made me plunk down the $1 to take it home. How do you resist this:
Polly struggled with her own childhood memories. Memories that reached beyond the familiar walls of her home, beyond logic or imagination. Visions of fire, of hemlock, of an old mansion and an eerie funeral procession clouded her thoughts and lured her into the dark heart of an elusive other world. A world where childhood fantasies had become all too real. Where an evil woman regal as a queen had trapped a man in her spell. And where Polly alone held the key to his freedom from the seductive web of....Fire and Hemlock.
Well I had to find out what the heck was going on with Polly!
From the very first pages it is clear that our nineteen year-old heroine, packing up for another year of college, has forgotten some critical parts of her childhood. Everything in her past seems normal, bland, predictable - nothing to suggest she has something to forget. She lives with her grandmother because her divorced parents are each a bit of a disaster. Her boyfriend, Seb, is entirely acceptable if a little smug and her future is bright if a bit pedestrian. There is nothing remarkable about Polly, except what she is starting to remember that she has forgotten and very quickly those memories prove to be startling, strange and everything anyone who ever yearned for adventure could want from a life. (Whew!)
I loved Polly. No, wait - I LOVE Polly.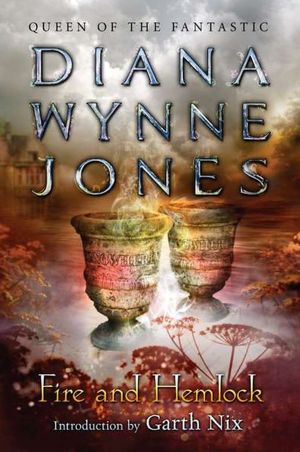 She is Nancy Drew and Harriet the Spy and stubborn in the best way that Mary Lennox could be. She had moments of Buffy-like toughness and Rory Gilmore-like steadfastness and she is Meg Murray when she faces down IT. Polly strays where she should not, peeks in at what she shouldn't see and listens at doorways and notices things. She crashes a funeral in her Harriet the Spy moment and that sets her on a path with a musician named Thomas Lynn. Her conversation with him brings his complicated and dangerous associations into her life and little by little, over the years, she and Mr. Lynn become great friends (even though they meet when she is a child). It is clear that something bad is coming after Mr. Lynn and Polly finds herself in the midst of it all. What happens to him, and how she ends up forgetting their friendship, are the issues that drive the plot forward. It's complex and thoughtful and full of enormously appealing characters and then - and then - Diana Wynne Jones gives readers such a splendid and just right ending, that it makes me smile every time I read it. It's not sappy but real, in fact Fire and Hemlock, for all that it is mythic fiction and a retelling of both the ballads "Thomas the Rhymer" and "Tam Lin", is one of the realest books I've ever read.
All of this is why in 1997, when I left an aviation career behind and took a job as a clerk in a bookstore while also enrolling in graduate school, it was the book I needed most. I didn't feel very brave in 1997, only tired and a bit desperate. The one truth I had was that everything was not right in the life I was living. Reading Polly's story, seeing her ask all the hard questions and fight for honest answers, gave me a little bit of something to believe in.
The good stories can do that you know. They make you believe in so much; they can even make you believe in yourself.
[See also Dogsbody and A Tale of Time City both out with their equally gorgeous covers and introductions by Ursula K. Le Guin and Neil Gaiman. And be sure to check out the many other DWJ celebration posts around the web, gathered at the DWJ 2012 tumblr. (Tomorrow if Finding Wonderland!)]