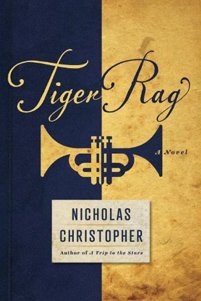 Somehow I missed that Nicholas Christopher has a new book just out, Tiger Rag. I'm a huge fan of his work (have you read A Trip to the Stars? Go - read it now!) Tiger Rag is about a family mystery, a woman whose life is falling apart, some mother/daughter bonding, a road trip and - the best - the life and legacy of Jazz great Buddy Bolden. I have no idea when I'll be fitting this one in but it will happen, and soon. (See Paste Magazine's review here.)
In the massive "what to look forward to in 2013" post at The Millions, I saw lots of interesting sounding books 1 but it was in the comments that I learned Andrea Barrett has a new short story collection due out in August: Archangel. Her Ship Fever remains a life-changing read for me (and the first time my family realized that my Irish heritage likely came through Canada at some point as well). Barrett never disappoints. Ever. The blending of science and histories in her stories is beautiful to discover, and it sounds like more of the stellar same in Archangel.
Also, A Map of Tulsa by Benjamin Lytel and The Pink Hotel both sound like possible older teen crossovers for my column. If I can't get my hands on copies, then I'll try to give them a shout out at least at titles to check out.
I'm reading Christopher Barzak's upcoming collection, Before and Afterlives, and Margo Lanagan's latest, Brides of Rollrock Island, both for my February column which somehow morphed into fairy tale-ish/interstitial-ish titles. (I have no idea but it has finally come together so I'm not complaining). March is for sure coming-of-age, April is nonfiction, May is adventure/run for your life.
There. I know what I'm doing!
Tomorrow I write about lost birds and lost pilots. I hope it comes together on paper like it has in my head.
1Apparently there are no books to look forward to in the SFF genre, or mystery or romance or YA in the land of The Millions. This should not surprise me, but, sigh - it does. Also - mention Marisha Pessl's upcoming book but not Andrea Barrett's? REALLY?