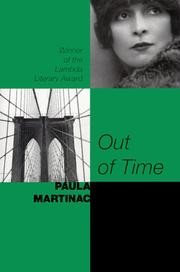 I bought Paula Martinac's Out of Time at a tiny bookstore in my hometown that went out of business fairly soon after it opened. (Honestly I was not surprised, they had such low stock in there I couldn't figure out why they even bothered to open in the first place.) It caught me with the cover and then the jacket copy about a mysterious scrapbook of 1920s photographs and a potential haunting of the main character was enough to make me buy it immediately. I read it and loved it and every few years I reach for it again. The other day I gave it a reread, largely because I have become so preoccupied with the time period due to my own great grandmother's photographs. It is still wonderfully fabulous and if you can luck into a copy (it's out of print), then I strongly urge you to do so.
Susan Van Dine is a professional graduate student (lately working on a doctorate to add to her pile of diplomas) who has no idea what she wants to do with her life but keeps hoping to figure it out. In an antique shop she comes across a scrapbook of 1920s photos, all of four young women, and feels powerfully drawn to it. In the days that follow she begins to suspect she is being subtly haunted by one of the young woman - Harriet - and also realizes the women are two couples. With the help of her girlfriend Catherine, a history teacher and researcher, Susan sets out to learn what she can about Harriet, Lucy (who owned the scrapbook) and their friends. The hauntings become much more real and the mystery of what happened to the four women (and how they met and became friends) deepens. In the end Susan finds herself and Lucy and Harriet (and Sarah and Eleanor) and also learns a ton about what it was like to be a lesbian during the Roaring Twenties.
I loved the history (my favorite period really) but it was Sarah and Catherine's relationship that really drew me into this novel. Rather than have Sarah cast aside her girlfriend as she becomes immersed in the mystery, Martinac lets the characters fight their way through this new obsession and work things out. It's what makes the book such a mature read - the characters act like grown-ups which I found quite refreshing.
But mostly - a scrapbook! Photos from the 1920s! Discussion of women's roles in the 1920s! VISITS TO ARCHIVES!
Yeah, you know why I loved it. Perfect winter reading if you dream of finding treasure in antique stores.